Electronic bill of lading – are you and your country ready for it..??
Let me start with a bit of history.. Global trade and globalisation has been around for centuries in various forms across various time lines..
The World Economic Forum classifies the history of globalisation as below..
Silk roads (1st century BC-5th century AD, and 13th-14th centuries AD);Spice routes (7th-15th centuries);Age of Discovery (15th-18th centuries);First wave of globalization (19th century-1914);Second and third wave of globalization;Globalization 4.0 – current age
The age of discovery is when global trade truly kicked in as it was from the end of the 15th century onwards, that European explorers connected the East with the West, in the process accidentally discovering the Americas..
The age of discovery aided by discoveries in the fields of shipping, physics, mechanics and astronomy allowed the European colonisers – Portuguese, Spanish, the Dutch and the English to discover, subjugate and integrate these colonised lands into their economies..
The first wave of globalisation aided by the British Industrial Revolution and its advanced industrial technologies such as the steam engine and steamships assisted in globalisation, allowing trade to grow at 3% per year and propelling exports from 6% of global GDP in the early 19th century to 14% at the beginning of World War I..
Advertisement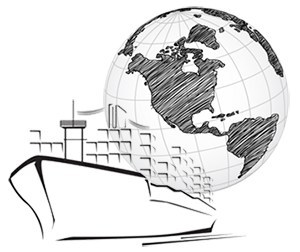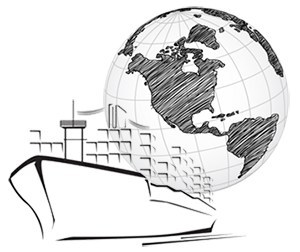 Globalisation took a nosedive during World War II, but saw a strong resurgence at the end of the war aided by more advanced technologies..
Trade started growing again, eventually accounting for around 14% of global GDP in 1989..
The collapse of the USSR and the Berlin Wall saw globalisation became truly global with the formation of the World Trade Organization (WTO) through which, most of the nations around the world became members and entered into FTAs (Free Trade Agreements) including China in 2001..
The 3rd Industrial Revolution brought the Internet into play and suddenly the world became that much smaller, helping global exports soar to almost 25% of global GDP..
Digitalisation, which was very much in its infancy a few decades ago has now become the new frontier of globalization heralding the arrival of the 4th Industrial revolution..
Digital advances like Blockchain, IoT, Big Data, Machine Learning and Artificial Intelligence have arrived in our industry and are here to stay, innovate and enhance global trade..
Which brings us to the subject of this article and one of the digital advances that is catching on quite quick – an Electronic Bill of Lading..
As you know by now, a Bill of Lading (B/L) is one of the most important commercial documents in the whole shipping and freight chain fulfilling 3 functions..
Evidence of contract of carriageReceipt of GoodsDocument of title to the goods
Traditionally (and even currently), the bill of lading, especially a negotiable one is issued as a physical paper document signed and stamped by the carrier, usually as 3 originals..
This bill of lading is then physically couriered to the consignee or receiver at destination for release..
Depending on how the bill of lading is issued, there are several permutations/combinations in terms of who should endorse a bill of lading for cargo release..
What is an electronic or paperless bill of lading and how will it be different from a traditional paper bill of lading..??
An electronic paperless bill of lading is a bill of lading issued electronically instead of being printed on paper and issued physically to the customer as a hard copy..
Recently, CMA CGM, the world's 4th largest container shipping line announced the availability of their paperless bill of lading on their eBusiness platforms..
As per CMA CGM, the "Paperless Bill of Lading replicates the same functions as a traditional paper Bill of Lading"..
Whether using an electronic paperless bill of lading issued on the back of a Blockchain based platform or a Bolero based platform, these electronic bill of lading options are said to fulfill the above mentioned functions in the same manner as a traditional paper bill of lading..
Many believe that the electronic bill of lading will be a game changer in the shipping industry with its faster, efficient transactions, reduction in costs with greater security and less risk…
As per CMA CGM, the electronic paperless bill of lading will have the same level of insurance coverage that traditional paper bills of lading provide..
BUT and this is a BIG BUT, there is the issue of safety, security and acceptability relating to the transmission and receipt of electronic paperless bill of lading..
It is important that you check whether you and your country are ready for electronic paperless bill of lading..
A question of safety, security and acceptability
All shipowners, operators and charterers (shipping lines among them) are covered for marine liability by P&I (Protection & Indemnity) Clubs..
These clubs cover their members against a wide range of third party liabilities arising out of the use and operation of ships such as loss of life, personal injury to crew, passengers and others on board, cargo damage and loss, pollution by oil and hazardous goods, wreck removal, collision and damage to property etc..
These Clubs also provide a wide range of services to their members including claims handling, advice on legal issues and loss prevention, and play a leading role in coordinating the response to and management of maritime disasters and casualties..
The International Group of P&I Clubs comprising of thirteen P&I Clubs cover approximately 90-95% of the world's ocean-going tonnage..
This background is important to know because these clubs which started covering liabilities arising in respect of the carriage of cargo under electronic paperless trading systems only from the 20th of February 2010, have approved only 4 electronic paperless systems as below
Bolero by Bolero International Ltd – Rulebook/Operating Procedures September 1999;CargoDocs by Electronic Shipping Solutions;e-titleTM by E-Title Authority Pte Ltd;edoxOnline by Global Share S.A.
This simply means that if any liabilities occur on goods shipped under other electronic paperless trading systems not approved by the Group, the members will NOT be covered for this..
It is important for carriers to be aware of this in terms of their liabilities and cover..
It is also worth remembering that like any form of insurance, the extent of your liability cover (whether you are a carrier or logistics service provider or shipper) can only be tested when there is a claim and in some cases it may be too late for you..
Not just in terms of carriers, you also need to check if all other entities involved in bill of lading transactions such as Banks, Chambers of Commerce, Cargo Insurers etc accept electronic paperless bill of lading..
For example, CargoDocs eB/Ls are accepted and recognized by industry bodies such as the ITIC and TT Club which means freight forwarders covered under TT Club can also use electronic bill of lading.. How many other paperless trading systems are accepted by these entities..??
Studies have found that at present, English law does not recognise an electronic paperless bill of lading as a negotiable document of title..
As a consequence of this, the holders of electronic paperless bill of lading issued under COGSA 1992 will not be able to pursue claims against the issuing carrier unless there is an express contractual agreement covering this aspect..
As of this article, there is no known changes to legislation for the Carriage of Goods by Sea Act 1992 to include electronic paperless bill of lading..
So this may be seen as a serious problem for shippers who wish to use electronic paperless bills of lading under COGSA 1992.. Of course UK's situation post Brexit is an ever bigger unknown..
Like UK, various countries have their own regulation and legislation surrounding an electronic bill of lading and it would be prudent for you to check its acceptability..
Not just for container shipments, electronic paperless bill of lading is also used with charter parties..
BIMCO has shown explicit support to electronic bill of lading and as part of this, has created an exclusive electronic bill of lading clause in 2014.. This eB/L clause needs to be incorporated into charter parties when the parties know that an electronic bill of lading will be issued..
BIMCO's Chief Officer for Legal and Contractual Affairs, Grant Hunter, has stated that "BIMCO has for many years fully supported the concept of electronic bills of lading as a means of providing a more efficient and secure method of dealing with bills of lading, waybills and delivery orders."
The new BIMCO eB/L clause is a major development in the recognition of electronic bills of lading by major industry bodies and NGO's who support and acknowledge the benefits for all the parties involved in international trade..
The BIMCO Electronic Bill of Lading Clause reads :
(a) At the Charterers' option, bills of lading, waybills and delivery orders referred to in this Charter Party shall be issued, signed and transmitted in electronic form with the same effect as their paper equivalent.
(b) For the purpose of Sub-clause (a) the Owners shall subscribe to and use Electronic (Paperless)Trading Systems as directed by the Charterers, provided such systems are approved by the International Group of P&I Clubs. Any fees incurred in subscribing to or for using such systems shall be for theCharterers' account.
(c)The Charterers agree to hold the Owners harmless in respect of any additional liability arising from the use of the systems referred to in Sub-clause (b), to the extent that such liability does not arise from Owners' negligence.
Under sub-clause (a) of the BIMCO clause, owners and charterers agree that the eBL issued will have the same effect as a paper BL.
Conclusion
Phew, as you can see, switching fully to an electronic paperless bill of lading is not that easy as there are several factors to be considered before you decide to so..
In the current global trade setup, many countries have legislation which allows contracts to be created and signed electronically but the legal status of the electronic bill of lading seems clear as mud to many as..
Then there is the issue of fraudulent freight forwarders, the various scams they operate.. Electronic accesses always carry a certain amount of risk and it is a collective responsibility to ensure the safety and security of these electronic bills of lading..
It is hoped that once the UNCITRAL model law has been adopted, it would assist in making things clearer with regards to the rights and liabilities of those who wish to use electronic paperless bill of lading..
Have any of the readers used or are using electronic paperless bill of lading and how is it working for you..?? Would be pleased to hear..